With a second lockdown, US election and general winter blues all happening at once, the timing for International Stress Awareness Week is impeccable this year. Here's how you can take control of your worries and take some real steps towards eliminating stress over the coming months. By Sadia Nowshin. 
International Stress Awareness Week was founded in 2018 by the International Stress Management Association. Its main aim is to educate on the many effects of stress, and recommend ways to combat it. In 2020, the week feels more apt and poignant than ever before: if there's one thing we all know for certain, it's that we're all pretty stressed out right now.
The number of adults likely to be experiencing a form of depression doubled in June 2020 compared to in the year before the start of the pandemic (June 2019 – March 2020). It's gone from one in ten adults, to a huge one in five. This stat may come as no surprise given the multitude of struggles we've faced since March, from general pandemic anxiety to job losses, business closures and the health of loved ones. 
So now you're aware that you're definitely not the only one feeling tense, what can you do to alleviate that overwhelming feeling? 
Accept your need to stress
The first step on your journey to eliminating stress is to accept that your feelings of worry are completely valid and natural. Our generation of society has never undergone such traumatic, uncertain times as the chaos of 2020, and stress is an entirely legitimate reaction to have in response. Don't punish yourself for worrying or try to ignore it in the hopes it'll just disappear: even if it seems like those around you are holding it together with ease, it's very likely that they're feeling just as frazzled as you. 
The first lockdown had a sort of novelty to it, branded as a time to develop new skills and enjoy some time to yourself. This time round, the shared feeling of despair we're actually feeling under all the banana bread and home workouts shouldn't be a taboo topic. Talk to your friends and family honestly about how you're all feeling in the run up to the second round of restrictions and find ways to support each other. 
App-y chappy
There's an app for everything nowadays, and stress relief is no different.
Headspace: Free to download, optional subscription of £9.99/month. Headspace is often the top choice from psychologists when it comes to mindfulness apps. It has free beginner classes to ease you into the practise of mindfulness and meditation, but if you sign up for a paid subscription you can unlock specialised courses – and some of those available under the subscription are specifically targeted towards relieving stress.
Calm: free to download, optional subscription of £8.99/month. The Calm app prides itself on helping you focus, relax and switch off. It boasts a range of clips read by the dulcet tones of some soft-spoken celebs (finally, you can have Matthew McConaughey read you a bedtime story) and a series of guided meditations. A free download will get you access to some of the resources on offer, but a paid subscription unlocks the full library of the app. 
Dear diary… 
In our latest Winter Warmer newsletter, I suggested journaling as a way to vent your feelings when you're feeling blue. The experts have backed me up, recommending that you spend some time before bed every night to write down the things you're thankful for, things that you hope to achieve in the week (even if that is just 'get out of bed every morning before 1pm) and what's been on your mind. Seeing it all written down can put your worries into perspective, and pouring out the contents of your head onto a blank page effectively relieves the pent up stress of the day. 
Don't want to miss out on the next Winter Warmer, full of tips just like this to get you through the winter blues? Sign up here!
Wrap up warm and brave the cold
Heading outside may sound like the least appealing thing ever when you're feeling gloomy, but the fresh air can make you feel refreshed and gives you some time out of the four walls of your house. 
Get your running shoes on for a quick whiz round the neighbourhood, or take a scenic approach and slow it down to a nice stroll. Plus, if you're prone to a winter iron deficiency (find out if your exhaustion could be something more here) then some natural sunlight that isn't filtered through a window will do you good.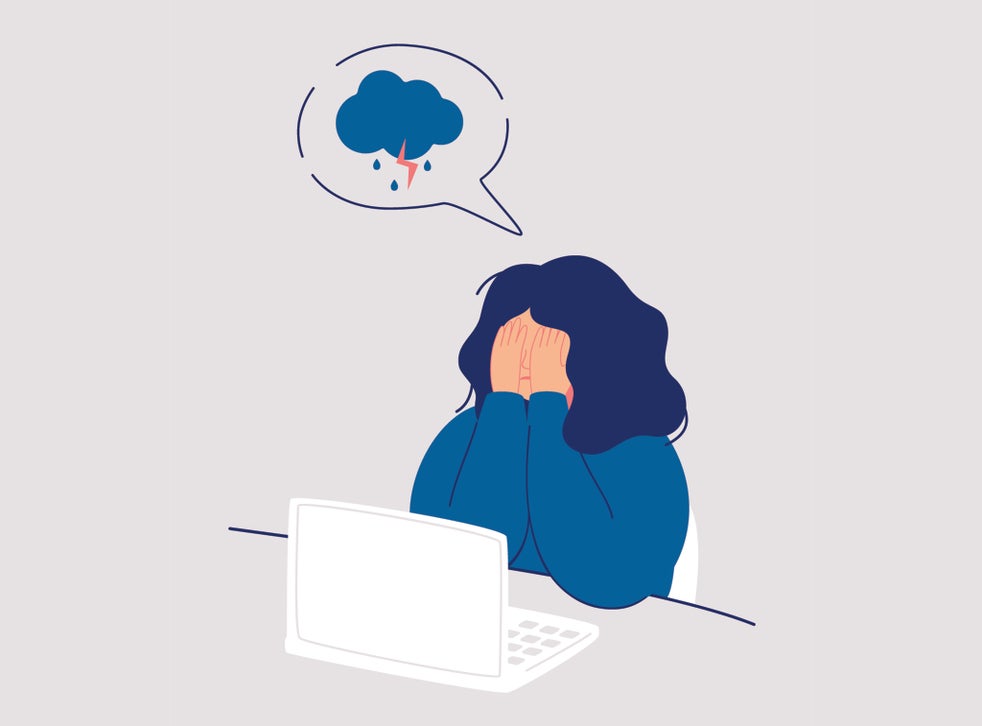 Light up your life
It's never ideal when you wake up in the morning and are fooled into thinking it's still nighttime for a few minutes. Unfortunately, the skies will only be getting darker and working from home might mean you don't always have time to head outside for a walk. If that's the case, get a sun or SAD lamp, which imitates natural sunlight. It can help regulate your sleep pattern so you don't feel so groggy in the early hours and triggers the release of your happy hormone. 
Switch off
Yes, the world may seem like it's hurtling towards destruction. But staying glued to social media feeds won't help your stress levels: follow the tips we set out in our 'how to stop doomscrolling' article and learn to give your brain a break from all the gloomy news.