Picture the scene. Lizzie McGuire, every millennial woman's favourite teen girl-next-door (thank you Disney Channel), is now 30. She's the same Lizzie we know and love, but sassy, wiser, a little bolder. She's got rid of the crimped hair and expanded her shoe budget. She's living her best life, engaged to the man of her dreams (though he's not Gordo – she's grown up enough to realise the difference between lovers and friends now). Then, like so many millennial women, Lizzie discovers life's not quite the fairytale she thought: her dickhead fiance is cheating on her.
CUT. Or at least that's what the Disney producers who were planning the much-anticipated Lizzie McGuire reboot called after filming just TWO episodes of the spin-off – before cancelling the rest of the series.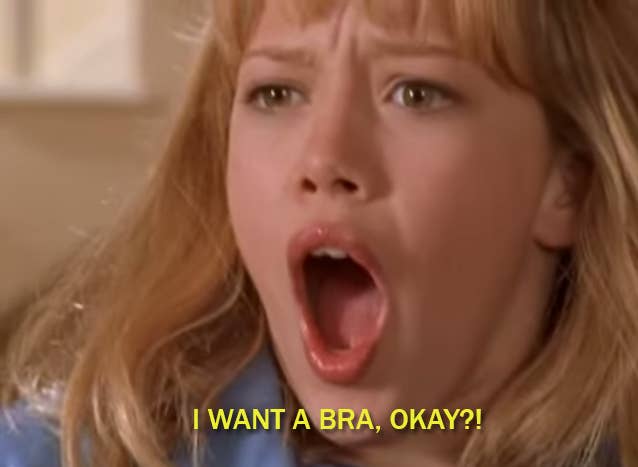 I know, I know. Why would they tempt us like this, only to deprive us? Well, it turns out the remake Hillary Duff envisaged – one that explored what it means to be a millennial woman in today's world, warts and all – is apparently not PG enough for Disney. Launching us back to the 1960s, they've cancelled the show because having adultery as a plot point is apparently too risque for filming to continue.
As we know, this isn't the first time Disney has had a meltdown over its female stars trying to explore what it means to be a fully-fledged grownup. And does this tap into a bigger issue: is being honest about the complexity of life as a millennial woman seen as something kind of shameful? Do adult female characters have to live squeaky clean lives and be virginal for them to make it onto Disney, even when their audience consists of adults?
Why does this matter?
Disney thrives off portraying female characters as 'pure' or 'clean', playing into those outdated stereotypes that women should remain in their 'innocent' child phase forever. To be part of the Disney world, even in reboots of shows where the original audience are now adults themselves, women have to have a flawless record in order to portray these fictional women who are totally innocent. And when they don't stick to that sterilised version of femininity, well… there are consequences.
There can be huge backlash from the public and media if former Disney stars subvert that idealistic image of purity that forms the basis of most, if not all, of the female characters they played. The most obvious example here: Miley Cyrus.
When the former Disney star left her blonde wig and sequinned outfits behind her to experiment with her identity as an adult, her new image was the complete opposite to the persona Disney had carefully curated for her. And in the hoards of negative press attention her 'Wrecking Ball' phase attracted, many of those articles used her Hannah Montana days as a comparison to her transformation. They ignored that the 'innocent' version that they lamented the loss of was a version of her as a young teenager, not as a young woman keen to separate herself from the image she felt she was trapped in.
Er… and why is that relevant?
While the tabloid headlines about Miley Cyrus might not seem to bear much relevance to the Lizzie McGuire reboot being cancelled, there's a common theme here…
Just as Miley Cyrus couldn't get away with leaving her childhood image behind, the adult Lizzie McGuire can't be allowed to mature beyond her teen years. To suggest that an adult version of the sweet, innocent young girl of the original series would experience things as scandalous as infidelity, even when it's merely alluded to and is in a script designed to entice an adult audience. If the 30-year-old Lizzie has some dark, complicated, messy sh*t to deal with, Disney's sterilised version of womanhood is undone and the fabric of the facade they've created starts to fall apart. Any problem that might not be neatly wound up by the end of the episode isn't suitable for the final cut.
The original audience of Lizzie McGuire, and most likely the audience who would be keen to watch the remake, are millenials and Gen-Z adults now. Despite progression in society around women's rights to their own body and society's changing perceptions of that liberty, Disney continues to perpetuate this idea that the only acceptable form of a woman is one who is 'clean', innocent and totally unrealistic. And by cancelling the remake on the basis of it breaking those outdated rules, they continue to create unrealistic and damaging standards for the younger viewers they claim to be protecting.