TW. In the US state of Wisconsin, Jacob Blake was shot several times in the back by police as he opened his car door. His three young sons were sitting in the car and witnessed the whole scene. People have taken to the streets in protest to demand justice for Blake, who may never walk again. By Sadia Nowshin.
What happened?
On Sunday (23 August), officers in Kenosha, Wisconsin were responding to a 'domestic incident' but it's unclear who made the call, how many officers responded or what the circumstances were that actually led to the shooting. Jacob Blake's lawyers say he was trying to "de-escalate" the situation when police drew their weapons on him, which witnesses to the scene echoed.
The police force has given out little information about the incident. Police in Kenosha don't wear body cams, only microphones, so the only source of establishing what happened came from a witness who recorded the incident.
The video shows Jacob walking around his car where his three kids are sitting, and leaning into the door. Then, one officer grabs his shirt and they open fire. Seven shots can be heard, amongst screams and shouts of witnesses and his sons. At least one of the bullets fired went through Blake's spinal cord, and it's feared it'll take a "miracle" for him to walk again.
The man recording, Raysean White, heard police shout "drop the knife", but says he didn't see a knife in Jacob's hands at any point. He also said he saw officers punch, wrestle and Taser Jacob before he started recording.
What's happening now?
Protests have erupted across Wisconsin. Some have damaged buildings and property, but Jacob's mother asked protesters to stop violent demonstrations as "it doesn't reflect my son or my family". She called for everyone to "examine their hearts", saying the state and its citizens needed "healing".
In an emotional statement, Blake's father said: "They shot my son at least seven times like he doesn't matter. But my son matters. He is a human being and he matters". He also expressed a lack of confidence in the investigation into his son's shooting.
"I'm not sad, I'm not sorry, I'm angry and I'm tired" were the words of Jacob's sister, who added "I don't want your pity, I want change".
Jacob's family has a long history of community activism, and his grandfather was a pastor and local leader of the civil rights movement. Blake's family say he continued this charity work within the local area, and had moved to Kenosha to "work and try to save and build a better life".
It's reported that there was an active arrest warrant against Blake, in relation to charges of sexual assault, trespassing and disorderly conduct. It's still unclear if officers at the scene on Sunday knew this when they responded.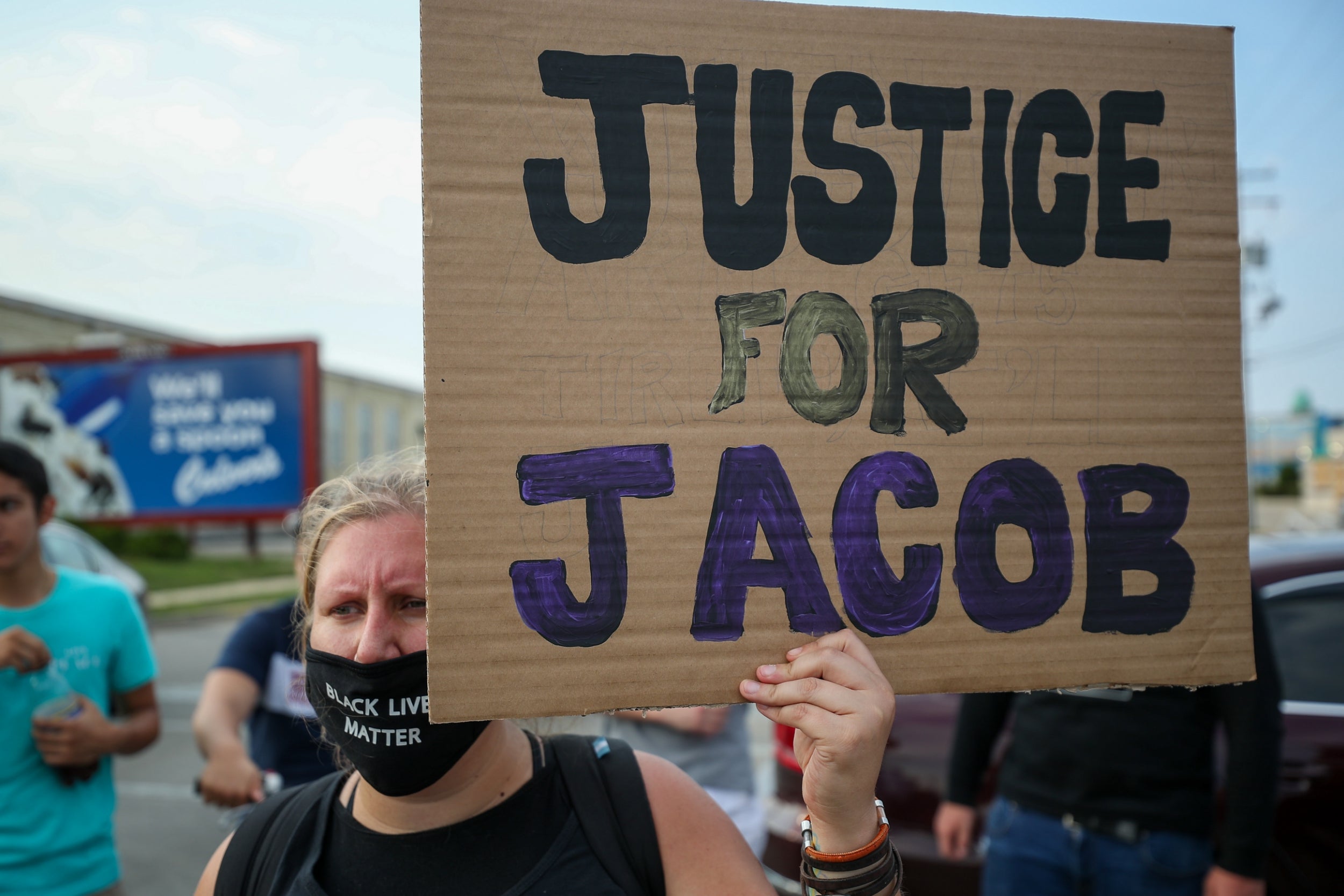 However, protesters and BLM activists have emphasised that none of this should matter in the public's consideration of Blake's shooting.
Their stance is that police officers should not be shooting citizens to kill or paralyse them like they did Jacob, regardless of their existing past: black people shouldn't have to have a completely clean record or a particularly charitable, community-driven character to 'earn' their right to life.
As the investigation continues, protesters and Blake's family hope that the circumstances of his shooting become clearer and those at fault face justice.